Nadogradnja na verziju 8.168
Dragi igrač,
naša nova nadogradnja na verziju 8.168 će biti objavljena u utorak, 14.05.
Ova nadogradnja uključuje poboljšanje pravila i određena poboljšanja u kvaliteti života u igri.
Izmjene i poboljšanja
Pojašnjenje pravila 4.8
Pravilo igre §4.8 (vezano uz čuvanje računa) je malo promijenjeno kako bi bilo jasnije koji su uvjeti i posljedice kršenja pravila; kako bi bolje pojasniji kako naši članovi tima za podršku rješavaju takve situacije.
"If the "Account Sitting" feature is used the account owner is solely responsible for the selection of the sitter and it is assumed that the sitter is in general acting with his/her consent. This applies to any change done to (or by) the account while the account sitting is active. Individual or repetitive misuse of sitting may lead to punishments to all involved accounts. It is at the Support Team's discretion to define misuse on a case-by-case basis."
Sudjelovanje članova plemena u izgradnji utvrde
Ekran utvrde sad uključuje informaciju o količini sirovina koje je pojedini član plemena poslao. Ovaj pregled se može filtrirati za ukupni doprinos ili za doprinos u zadnjih 7 dana.

I / ILI izvještaji bitke
Filteri izvještaja bitke sad imaju I/ILI mogućnost za više i preciznije filtriranje.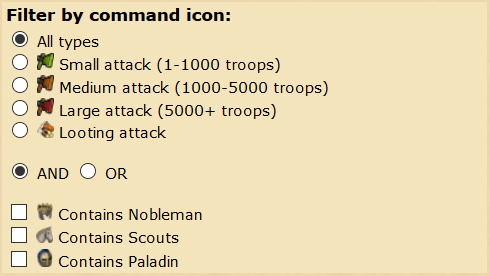 Pregled ukupne kolicine jedinica
Ekran s pregledom jedincia sad uključuje red za sve jedinice. To su sve jedinice u pojedinom selu, uključujući vlastite jedinice izvan sela, vlastite jedinice u podršci selu kao i jedinice drugih igrača u podršci.

Dodatak pregledu javnih postavki
Dodali smo informaciju da li članovi plemena mogu biti napadnuti ili ne u pregled javnih postavki za svaki svijet.
Povratne informacije
Ukoliko želite podijeliti povratne informacije vezane uz nadgodanju s nama, javite nam se u komentarima.
Plemena Tim